11 Baby Nursery Closet Photos That Will Inspire You To Tackle Your Baby Nursery Closet Project

In need of some inspiration to start tackling that baby nursery closet? Look no further! This post is all about baby nursery closets.
Sure, all those baby items and baby clothes are super cute, but sometimes the sheer amount of items your baby needs can be somewhat overwhelming. If you have all the things, but are putting off organizing your baby's closet, make sure to read through this whole post because by the end of it, you are sure to have the motivation and inspiration to start organizing the closet that you've been trying to put off!
This post is all about baby nursery closet inspiration photos.
1. Organization Shelves
One way to organize your baby nursery closet is by installing lots of storage shelves so you have plenty of space for everything.
2. Clean and Simple
If you're trying to achieve a clean and simple look, make sure all the storage items in your baby's closet are similar in colour and preferably in white or a light shade. And make sure you have plenty of storage bins to hide the clutter.
Baby Nursery Closet Organization Hardware: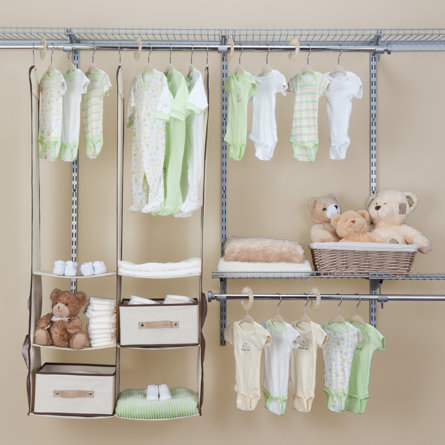 3. Baby Girl Multi-Purpose Closet
If you're pressed for space and have other items to store in your closet, why not take inspiration from this closet? Have tons of storage bins, and keep space at the bottom for any baby books or toys you need to store.
4. Dark and Moody
If you're looking for something different, why not paint the closet a dark and moody colour? Just make sure your storage bins and shelves are in a contrasting colour for a better visual.
5. Sliding Storage Bins
The open top sliding storage bins are perfect to store diapers and baby wipes. And it's great because you'll be able to quickly see where everything is.
6. Keep The Top Shelf For Other Supplies
This baby closet is actually genius. There's a space for everything you'll need, plus I love how other supplies have their own dedicated space at the top of the closet. It's displayed in full so you don't forget what you already have in stock.
7. Small Space Closet
If you're in a small space, don't fret! This is a great space-saving way to use all the real-estate in your baby's nursery closet. Plus, a storage solution like this on the closet door is usually pretty inexpensive.
Closet Door Storage Solution:
8. Clean and Minimal
If you're more into a minimal design, and want everything clean and crisp, this one will appeal to you! Just make sure you label all the storage bins so that you know exactly where to look for the items you need.
9. Montessori Closet
Technically these are more for toddlers, but if you are thinking of implementing a montessori style nursery, you can install this mini closet at any age.
10. Closet Door Storage
Here's another way to install storage in your nursery closet door.
11. Pre-Labeled Storage Bins
How about these cute storage bins that come pre-labeled? The trick to keeping your baby's nursery closet organized is to have a place for everything, and labeled storage bins are definitely the way to go if you want to stay organized.
Cost-Effective Storage Organization:
This post was all about baby nursery closet inspiration photos.
Did this post inspire you to create the nursery of your dreams? Show us some love and share this post!
Other Posts You Might Like:

The Ultimate Baby Registry Essentials Minimalist Edition | 14 Items You Absolutely Need in Your Baby Registry

Baby Nursery Ideas Boy | 5 IG-Worthy Nurseries That Will Inspire You In Decorating Your Baby Boy's Nursery

The Only Baby Shower Checklist You Need to Plan For A Super Fun Baby Shower